Supporting Diversity, Equity and Inclusion in Honors Education.
The National Society for Minorities in Honors (NSFMIH) was founded in 2015 to bring together and advance discussions and action in relation to diversity, equity and inclusion in honors education. The organization holds an annual conference, hosted by institutions around the USA, and promotes the wide dissemination of ideas and initiatives related to diversity, equity and inclusion in honors education - through its annual conference, through national and international seminars and electronic events, and through publications.
Information on forthcoming (2018 and onward) NSFMIH conference is included below.
The NSFMIH also has a Listserv, which you are welcome to join.
- Subscribers can join your list by sending email to
nsfmih-request@freelists.org with 'subscribe' in the Subject field
- To post on your mailing list, simply send email to
nsfmih@freelists.org.

Congratulations to Kacee Ferrell Synder and the BGSU team. on a very successful Second Annual NSFMIH conference held at Bowling Green State University, October 25-27 2017. Absolutely brilliant!
In 2018, the 3rd annual Annual NSFMIH conference will be held in Arkansas and hosted by Tricia Smith at UCA and Jessica Scott at UALR . Details to follow. You can contact Tricia and Jessica at: psmith@uca.edu and jrscott1@ualr.edu
The 4th annual Annual NSFMIH conference is being held in 2019 at California State University, Fullerton. The contact is Sandra Perez.
The 5th annual NSFMIH conference is being held in 2020 at Appalachian State University. The contact is Jeff Vahlbush.
Details of additional discussions will appear on the NSFMIH Listserv from December 2017
General NSFMIH contact/information: graeme@nsfmih.org
From the (past) 2017 conference
Practicing Diversity, Equity, and Inclusion in 
Twenty-First-Century Honors Education
Bowling Green State University, Bowling Green, Ohio
Wednesday, October 25 - Friday, October 27, 2017
Across the nation, Honors Programs and Colleges typically demonstrate a marked commitment to fostering and supporting diversity, equity, and inclusion both in and beyond the classroom. Yet honors education consistently is critiqued for its lack of diversity. For instance, admission standards to Honors Programs and Colleges often significantly limit minoritized student involvement. Even when minoritized students are admitted to Honors Programs and Colleges, often such students do not complete an honors education due to lack of academic preparation, negative internal or/and external perceptions of "a typical honors student," lack of support networks, or some other reason that speaks profoundly to the lack of diversity, equity, and inclusion in twenty-first-century honors education. Furthermore, an exclusive curriculum like the Great Books tradition might discourage minoritized student and faculty involvement, and often this lack of involvement is further exacerbated by inaccessible curriculum design or/and alienating pedagogical practices.
This two-day conference will focus on specific practices in honors education that are designed to foster diversity, equity, and inclusion. Submissions that address diversity, equity, and inclusion practices in one or more of the following areas of Honors education are especially welcome:
Admissions / Recruitment
Academic Advising
Mentoring and Support Networks
Student Life
Curriculum Design
Pedagogy
Program/College Administration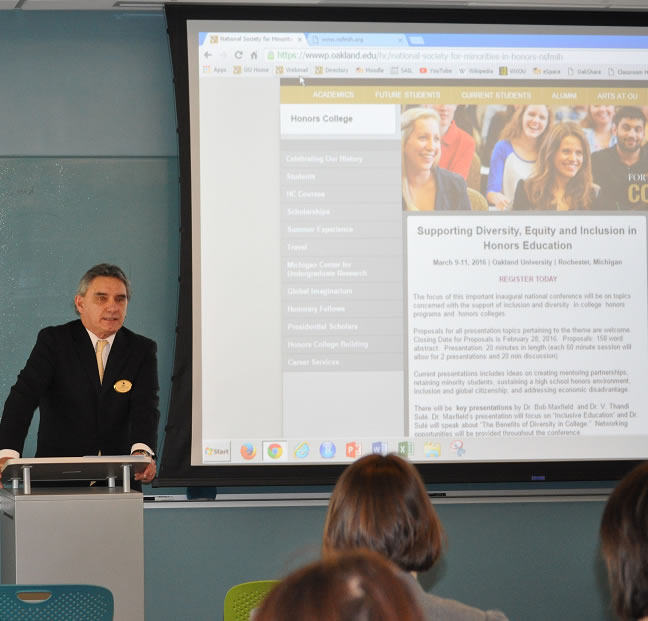 Launching the NSFMIH
- Spring 2016 -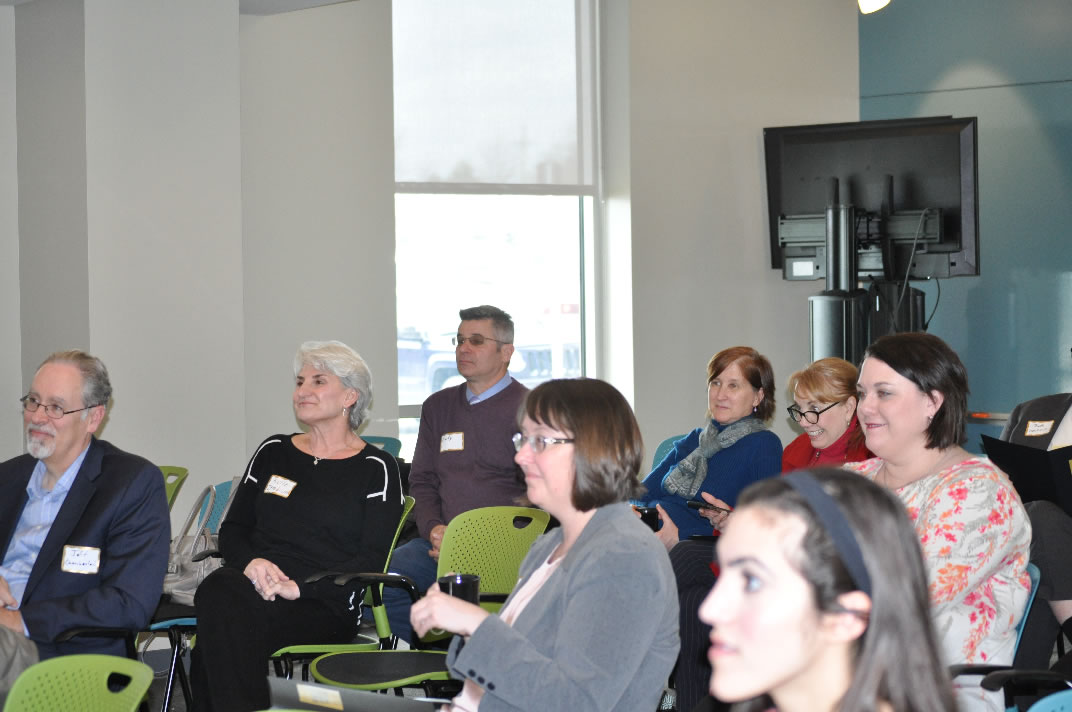 Some of the delegates at the NSFMIH launch
The inaugural conference was held:
March 9-11 2016 at
Oakland University
Rochester, Michigan

The launch the National Society for Minorities in Honors (NSFMIH), took place as a two day conference, offering a key opportunity for discussion and networking.

The focus of the inaugural conference was broadly on topics concerned with the support of diversity, equity and inclusion in college honors programs and honors colleges.

All topics pertaining to the theme were welcome, with special attention given to presentation topics looking at the creation of honors "pipelines" from high school to college, programmatic work on supporting diversity in honors, and topics focusing on specific under represented or under served populations.

Attendees included Honors College/program faculty, Academic Affairs staff, Academic advisers and Admission officers.